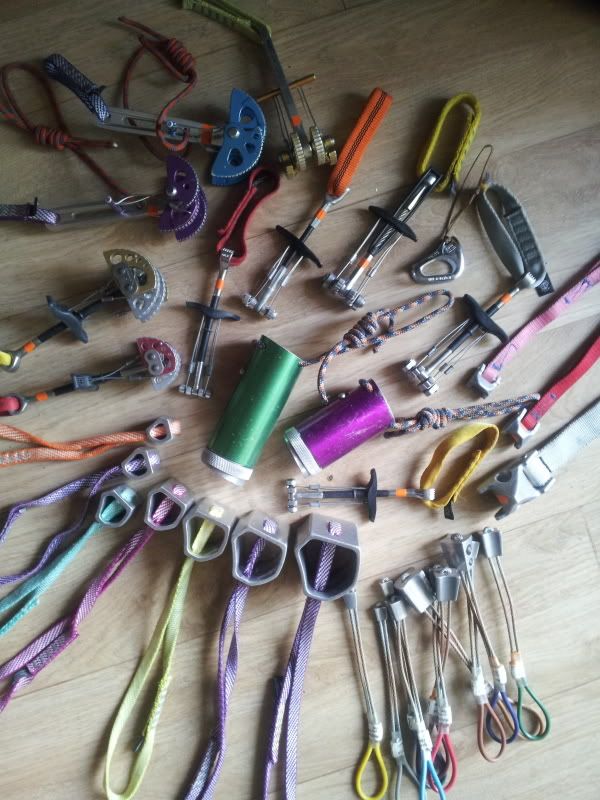 :eek8: I'm selling half of my rack (maybe more later)!! :eek8:
Here is a list of what I'm willing to sell now...
ALSO NOTE:
When digging through my rack I noticed that I have one cam that isn't mine, and I'm missing a few CCH Aliens. They will have orange tape as a marker and should be easy to spot. I'm not willing to sell these so if you find them in your gear, please let me know. If you think I have your missing cam please let me know what it is and I'll return it to you ASAP.
Petzl Tibloc (new)
25,000
HB Cam (orange equal to .3ish BD)
25,000
Wild Country Technical Friend 1 (about the same as a small grey .4 BD)
40,000
Wild Country Forged Freind 2.5 (yellow same size as Yellow #2 w less range)
35,000
Wild Country Forged Freind 3 (purple fills gap between BD #2 and #3)
"gunks slung" for bomber horizontal placement options.
35,000
Wild Country Forged Freind 3.5 (blue sized like BD #3 but less range)
"Gunks slung"
40,000
BLACK DIAMOND (not the new model) 175,000 for all of them. Great condition, but they are the old model, that's why they're cheap.
Camalot 1 (small red)
Camalot 2 (small yellow)
Camalot 4 (small grey double axle)
Camalot #1 (red)
Camalot #2 (yellow)
Full set of Metolious Curve Nuts nearly new, but wires look old from a failed attempt to mark the wires with orange spray... just made them look dirty. :(
50,000 Cheap because they're ugly.
Full set Wild Country Rockcentric (hexes) slung, not the crappy wired ones.
45,000
Pink, Red, and white Tricams (I found the pink and red are super usefull)
30,000 for all 3
Trango Bro 2 (purple)
80,000
Trango Bro 3 (green)
90,000